The concentrator of energy sphere (abbreviation CES) « K Star » is designed to protect against 5G and EMF, and restore and increase vital energy in people, their surroundings and other living systems and creatures.
It also contributes to the regeneration of body cells, to relaxation as well as time management, etc.
Area of effect – 120 meters. Colour: silver
This product:
Protect from electromagnetic radiation
Increase resistance and adaptability to negative factors of the environment
Structure water or any other liquid, including the liquids of our body
Restore energy balance and promote inner harmony
Promote revitalization and well-being
| | |
| --- | --- |
| Health Focus | BEAUTY, YOUTH, BRAIN HEALTH, DEPRESSION RELIEF, EMOTIONAL HEALTH, ENERGY & VITALITY, NERVOUS SYSTEM HEALTH |
| Spiritual Focus | CREATIVITY BOOST, ENERGY HARMONISATION, ENERGY PROTECTION, OPEN MIND |
CONCENTRATOR OF ENERGY SPHERE (ABBREVIATION CES) «K STAR» SILVER
The concentrator of energy sphere « K Star » creates zones of high positive energy due to the effect of its own shape and the work of its Reich battery. It is based on modern knowledge drawn from the space-time continuum of oscillating structures.
The concentrator of energy sphere « K Star » is intended for:
Protection from 5G, 4G, 3G
Restoration of living energy space
Elimination of the effects of geo-pathogenic zones
Restoration of individual energy and health*
Elimination of high-frequency electromagnetic smog (EMF Protection)
Reinforcement of living system bio-rhythms
Relaxation (which is gaining popularity as a stress reliever)
Time Management
Harmonization of interaction between people and animals
Restoration of the energy and health of animals
Creation of favourable energy conditions for the growth and fruitfulness of plants
Structuring of water and other liquids
Blocking the reproduction of pathogenic bacteria
* Clinical studies have shown that the concentrator of energy sphere positively affects blood quality, reducing its viscosity. It contributes to the normalization of blood pressure, dissolving blood clots, dissolving cholesterol plaques, dissolving uric acid crystals, as well as blood purification from the larvae of helminths, pathogenic microflora, etc. These changes are long-term and stable.
The « K Star » is a bio-power plant. The energy created by it has a positive effect on all the functional systems of your body.
PATENTS
The « K Star » concentrator of energy sphere is protected with 11 patents: Russian, Eurasian, and Ukrainian patents.
Dimensions of CES with base:
Diameter 15 cm
Height – 11 cm
Weight – 230 grams
« K STAR »   BENEFITS:
CESs are recognized globally; the devices have been awarded more than 100 medals and prizes at many international exhibitions
Easily installed in any room, creating a comfortable level of energy for people, plants and pets
Does not require traditional power sources, CESs work continuously and will work indefinitely
Looks aesthetic and is a stylish interior decoration
Has a large area of effect: 120-220 meters
Walls and barriers do not impede CES's area of effect
In addition to basic functions, CES users noted many additional positive effects, such as:
Improvement of sleep quality
Improvement in attention span
Improvement in time management
Reducing the number of injuries in manufacturing jobs
Increased endurance
Accelerated physical recovery
An improved taste in both food and water
Extension of the grocery shelf life
Reduced fuel consumption
RESULTS OF THE IMPACT OF CES ON HUMAN BLOOD
An improvement in the rheological properties of blood was noted (a decrease in blood viscosity, and a decrease in erythrocyte aggregation).

Positive changes in immune system indicators (an increase in the size of leukocytes, an increase in leukocyte activity), and an improvement of lipid metabolism (reducing the number and density of cholesterol crystals).
After using the CES in the State Hospital N31 in Moscow, it was found that:  
Deaths cases during surgery decreased from 7% to 4.3%
Deaths in the post-operative period decreased from 6.5% to 4%
The overall recovery period of patients has become shorter
CES regulates blood pressure and improves blood structure
In addition, CES is recommended for patients suffering from mental disorders such as phobias, manias, etc. 
The use of CES in combination with psychotherapy significantly shortened the therapy time.
AWARDS WON BY CONCENTRATOR OF ENERGY SPHERE
CES has been presented at dozens of international exhibitions at the highest level all around the world. Since 2005, the «K Star» has received prizes, diplomas and medals every year for 12 years in a row! The number of awards and prizes has been over 100.
CES was recognized as the best example of environmental engineering in Nuremberg-2010, in Korea-2011 (Seoul), at the world exhibition «Eureka»  in Brussels (2005, 2007).
The concentrator of energy sphere «K Star» received a special gold medal in 2017 at «Archimedes», the XX International Exhibition of Innovations and Inventions in China.
In 2016, it earned 12 medals, including a gold medal at «New Time», the International Salon of Inventions and New Technologies in Sevastopol; the gold medal at «EuroInvent», the European exhibition of creativity and innovation; a silver medal at the International Salon of Innovative Technologies Expo, in Taiwan.
In 2015, the concentrator of energy sphere «K Star» received 15 awards and medals.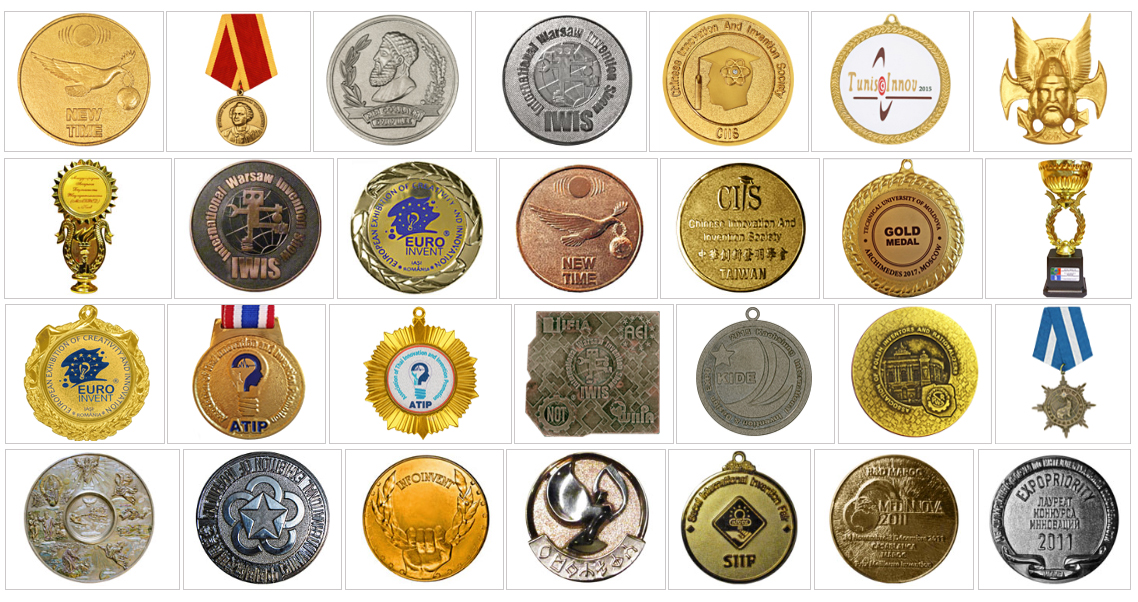 HOW CES WORKS
The concentrator of energy sphere «K Star» is a device for a new generation.
The new structure is formed by three rotating Fibonacci spirals, diverging from a single point at an angle of 120 degrees. Each spiral makes three full turns, after which they converge to a single point – the drain point. The point of origin is the cause and is manifested by the irrationality of the point of origin. The runes of a New Age are found at the point of the spirals' origin:
Rune Aya —Harmonization and Time Management;
Rune Algo —Protection, Mirror, Formation of a New Way of Being;
Rune Voz — Cleansing, Change;
Rune El — Rune of the Beginning and everything New;
If you want to know more about these runes, check out this article: here
The concentrator of energy sphere «K Star», consisting of mirror cones that converge at one point, serves as an accumulator, structuring the surroundings and ordering its energy according to the «K Star» principle, thereby raising it to a higher level.
The use of information from the runes of the New Age added a unique functionality to this device. One of them is a proclivity towards good time management.
The «K Star», gives you the opportunity to become the master of your own future, ensuring the achievement of your goals and contributing to change in stagnant situations. The information broadcast by the CES creates a desire to move forward and take action, changing your life in the event that it does not suit you.
The «K Star» allows you to receive energy and concentrate it towards putting your life in order, cleaning up and organizing your old files so that you can clear and make way for the future, generating a necessary synchronization of both mind and body.
It balances forces and energies, and allows every form and every piece of information to coexist in one space without violence, chaos or disorder.
The «K Star» helps the body get rid of tension caused by unnecessary burdens and responsibilities that serve as an excuse to not move on.
The concentrator of energy sphere «K Star» favours:
Protection from adverse events
Harmony between delicate bodies
Elimination of negative energy
Connection with higher planes
Improvement of extra-sensory perception
In Russia, CESs are used in sports complexes, kindergartens, schools, hospitals, laboratories, in transportation, the food industry, in plant growing, for livestock, in wine-making and even in the oil processing industry.
They have been tested in Russia's leading scientific laboratories and institutes.
ABOUT THE INVENTOR
Vladimir Selishchev is the author-developer of the concentrator of energy sphere «K Star», a Candidate of Technical Sciences, Senior Researcher, Associate Professor, a Doctor of Biological Sciences, Professor, and author of more than 100 scientific papers and 6 inventions.
He was awarded the Belgian awards «Order of Chevalier», «Order of the Officier», «Order of the Commandeur», the Nikola Tesla medal, the Diploma of the Croatian Union of Inventors, the Diploma of the Union of Inventors of Romania, Medal of the International Competition of «Environmentally Safe Products» (Moscow, 2006), and «Honored Healer of the 1st Degree». The International Personnel Academy of Ukraine has awarded him an Honorary Doctorate of General and Practical Psychology (2008).
The American Biographical Institute (ABI) gave Selishchev the title of Expert on the Theory of Causality and the honorary title of «Person of the Year, 2007». The International Biographical Center IBC (Cambridge) has included him in a list of 2000 outstanding intellectuals of the XXI century.
Selishchev began to engage in bioenergy in 1985. He developed and widely introduced a method for increasing the productivity of plants, fish, birds and animals for agricultural enterprises; in the automotive industry – he developed and introduced a method for reducing toxicity and increasing engine power.
In 1992 he finished his medical education and became a healer of international renown.
Since 2001, V.K. Selishchev studies and widely applies in his practice the methodology "Cause", developed by Professor V.P. Goch. This methodology, as well as others, formed the basis for the invention of the concentrator of energy sphere «K Star».
*All information contained herein is for educational purposes only. No health claims are intended and statements made here have not been evaluated or approved by the European Medicines Agency (EMA) or the U.S. Food and Drug Administration (FDA). If you have a medical condition or if you seek medical advice, please consult your health care professional